If you're curious about how to set rules for your child the right way so it's more effective and seeks less effort (read: annoyance) for you, especially in the long run, then this is the right post for you.
How To Set Rules For Your Child The Best Way
Let's first talk about how you should look at the rules for your child and what it's important to keep in mind before setting the rules.
This post has affiliate links which means that we make a commission from qualifying purchases at no additional cost to you. For more information read our Affiliate disclosure.
Note: Even though I am a licensed clinical social worker (LCSW), I am not your licensed clinical social worker (LCSW). This means engaging with our website is not considered a professional social worker and client relationship. This also means you should not consider this information as professional advice. Although we do put in every reasonable effort to provide the most accurate and reliable information, this does not replace professional advice, and you should not rely only on them. You still might need to consult a professional to introduce your particular situation, issue, problem, or position. Read our full Disclaimer here.
WHY ARE RULES IMPORTANT FOR A CHILD?
The rules are important for a child because they serve them to find their way around in the world, but also for shaping socially acceptable behavior because you're setting limitations.
What they don't serve for is for keeping kids restricted "in their place" (like some or many believe) or for excessive protection.
A too protective approach isn't in a child's best interest, because it prevents/limits them to gain important life skills, explore their options and find their way, grow their independence, and it's in conflict with the successful process of individuation – a process of reaching a stable, independent personality.
If you need to understand more about why it's important to help your child to become more independent, or you want to know how to do it, I've got 2 blog posts I recommend you go through:
It's important to create flexible rules and expectations for kids and to make them clear, discuss them with children, and let them make decisions and choices within boundaries that will protect them NOT restrict them.
I'll explain all of these later in the post.
These guidelines can be used when you're setting rules regarding their behavior or different family rules.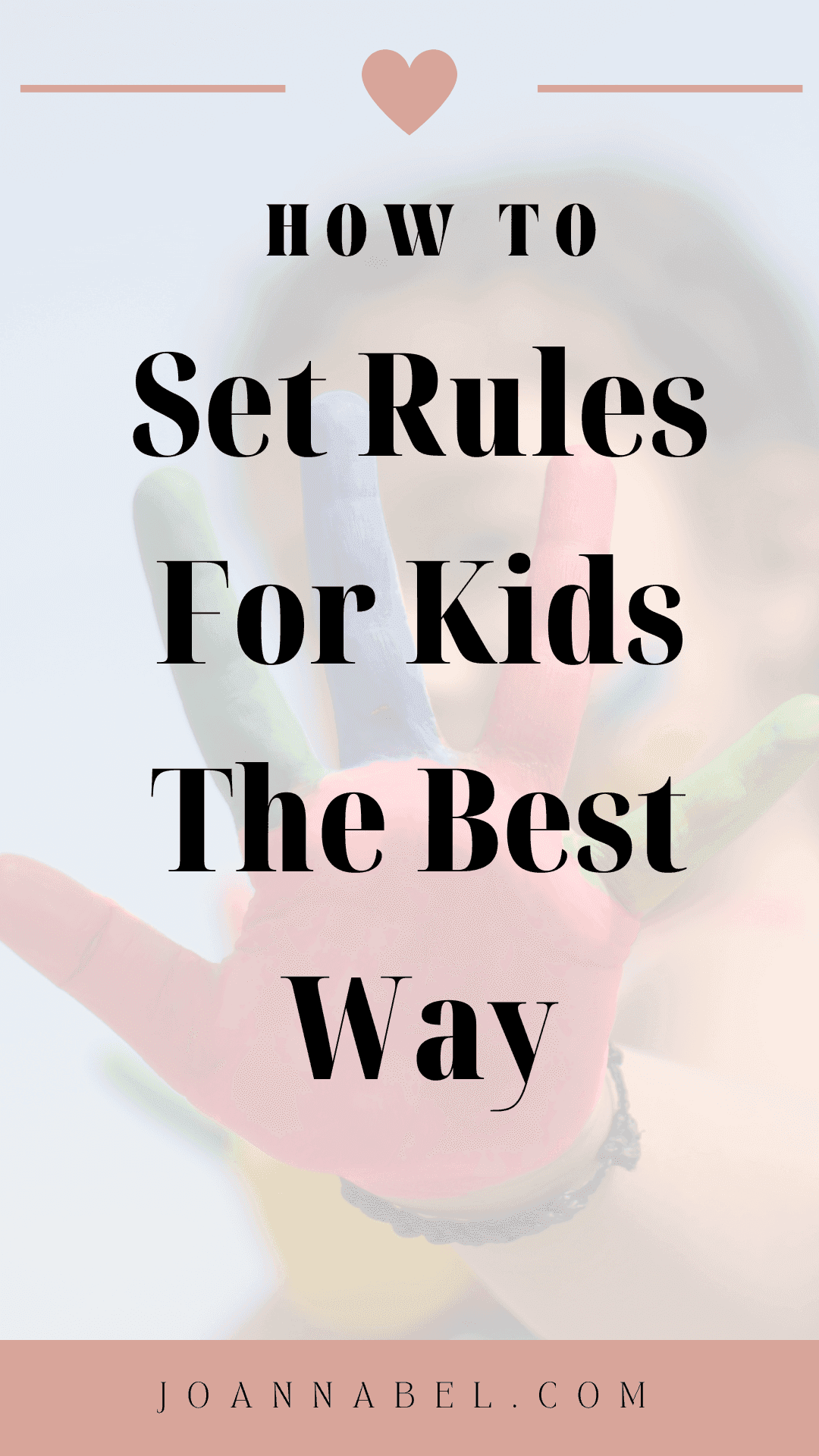 Let's go over a few general guidelines, that should help you in reflecting on your situation or improving it.
#1 THE RULES SHOULDN'T CHANGE TOO MUCH OR TOO OFTEN
Creating flexible rules does mean that they should and need to change when the time comes. But it doesn't mean you should change them often.
They should change when they're not applicable anymore and they can create problems for the family.
If you change them too often kids will have trouble keeping up with the rules.
And if you don't realize this on time, you might get into a bigger problem where you may start to think that nothing works, which simply isn't true.
As a result this can create a lot of confusion for you and you'll be leading yourself into a trap.
So, to avoid confusion, you must decide on the rules and stick to them, communicate them clearly, and include children in communication by discussing the rules with them.
When I say discuss I don't mean just announcing the rules.
What I mean is:
explain why certain things are critical,
answer all of their questions,
use reasonable arguments,
make an agreement with them,
let them have a say and express what they need to express at these moments,
let them participate in decision-making in a way that they can at that age.
If everyone is included in the process of setting the rules then they will be more likely to follow them, it's as simple as that.
Kids' involvement doesn't mean equal responsibility – you're still guiding the process.
When they learn that they can influence the process, this means they know they have power, they have control, and they feel less "trapped' which is why they feel more secure and less prone to disrespect the rules.
Check out also:
#2 THE RULES NEED TO BE CLEAR AND COMPREHENSIVE ENOUGH TO FOLLOW
Clearing out the rules will ensure a child understands what's expected to do or not to do. This also suggests that a child shouldn't receive conflicting messages about a certain expectation.
The rules should obviously follow a certain logic, and you will put an effort to help a child understand that logic.
This implies that you should explain the reasons, obviously, which means that it's not about imposing the rules and waiting for what's going to happen next.
It's about clearing things for them and for you so you all can function within these boundaries.
As you've seen a thousand times through your experience, rules are important in our lives. When you tried something for the first time it was important for you to fully understand how things work, what you should or shouldn't do for the best outcomes, and so on.
This implies that just because something is clear for you because you've been doing it for quite some time or you understand the logic behind it, doesn't make it clear and understandable for those who haven't. If you think of things this way, you'll be less annoyed when you are to explain things to your kids.
If you manage your expectations realistically, things can go smoother.
Also, try to remember that kids have agendas in their lives, just as you have in yours.
And they won't align with you always, but don't punish them for wanting to do things their way. Support them to do things their way by making sure this is exercised safely.
This implies that instead of focusing on restrictions focus on enabling them to do things safely and teaching them how to do things safely.
You may want to read later:
#3 THE RULES SHOULDN'T BE TOO STRICT OR SMOTHERING
The purpose of rules should be to ease things for all of you ultimately where we know how to behave within a certain setting, and not to punish anyone.
Too strict rules are ineffective because it's not possible to function normally within that type of boundary. It may work for some time, but not for long.
Too strict rules may work for you if you only care about your convenience, and considering most of you aren't, and you are not satisfied with having troubling relationships that result from this kind of treatment, then you should drop this kind of rule.
Rules should help children find their way not torture them.
So if you've been setting too strict rules you should start questioning why are you doing this and for whom are you doing this. Were you taught to do it that way maybe?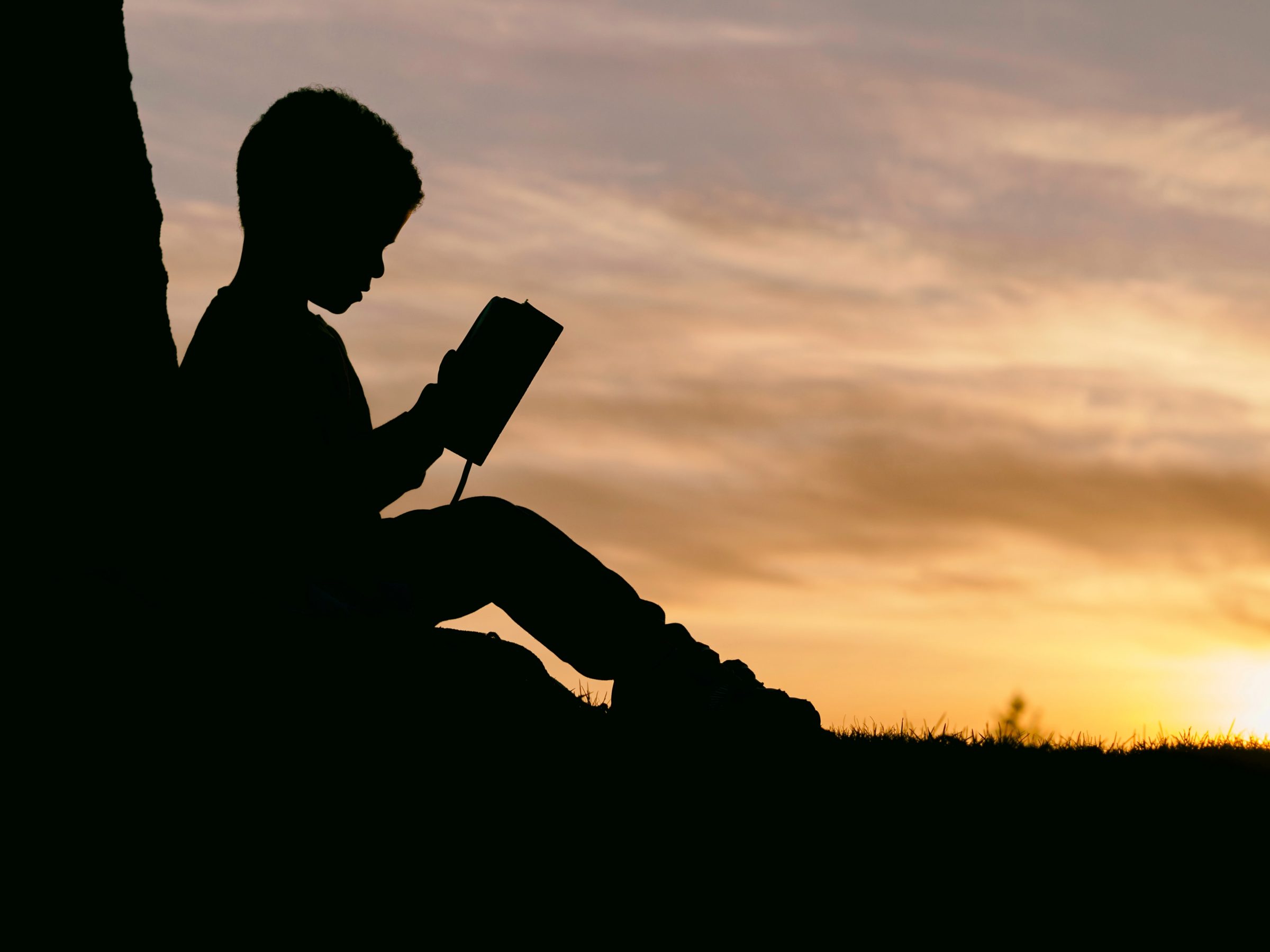 If you are doing it for the sake of kids then you should know that this isn't beneficial to them and give yourself permission to do things differently from now on.
Being too rigorous/inflexible about really anything is an unattainable and unsustainable approach to structure.
For us to be able to function as humans we need flexibility. Flexibility doesn't mean we don't do things we have to do.
Being excessive strictness leads to people walking on eggshells because you leave too narrow maneuver space for getting things right which then leads to them lying to you, and eventually deteriorating the relationship.
With kids what can happen is even defiant behavior, for which you'll continue to blame them, and put effort into "fixing them", but without putting effort to change and challenge yourself.
In my practice, when I talk to people who now have a history of defiant behavior, some even have experience with criminal activities and risky behavior, they would say things like – "..with my father (or mother) it was their way or the highway!'.
So what they were trying to say it's that there was no flexibility and no understanding for them.
So don't be this parent.
Set and manage expectations realistically, hold them accountable while acknowledging kids' positions and perspectives, have understanding and choose flexibility over rigidity.
You may find useful also:
#4 BE CONSISTENT WITH RULES AND LIMITATIONS
Humans like to push the boundaries and test the limits, and it's no different with kids, which is why you need to remember to be consistent.
As we mentioned, when the rules aren't fitting anymore you should change them because it's not about the rules, it's about whether or not any of this is effective and purposeful.
We're not setting rules so we can just have rules, obviously. Not to mention that having too many rules is useless and harmful. So it's common sense more than anything else.
This applies to expectations too, it's not enough just to have occasional, sporadic, or rare expectations because this can become difficult for children to achieve much progress.
Being consistent with the rules and limitations while also being flexible like we talked about and including the child in conversation sends a clear and strong message about what's really important and can positively affect children feeling more secure.
What's essential is to have the rules and expectations appropriate for a child's age and by nature.
As well as make sure your kid knows what the rules and consequences are. Together with your actions that are following what you're declaring.
Speaking of which…
#5 BREAKING THE RULES SHOULD LEAD TO DISCIPLINARY MEASURES AND YOU NEED TO BE CONSISTENT WITH THEM
Your child shouldn't feel like his or her life is a chore or even a military camp, but also, no child wants to live without any directions and discipline.
This means they need you to hold them accountable for their actions, to train them to manage their behavior, to deal with their emotions, to think about others not only themselves when they're doing certain things so they can repair the damage, and so on.
It's never about harsh mannered punishment.
Therefore, I have two very helpful blog post that will probably interest you:
I always associate positive discipline with love because a parent is willing to feel uncomfortable having to watch a child feel unpleasant. By this I mean any form of pain they endure while trying to learn something important in their lives.
And you're brave to go through feeling unpleasant as well because they may not like you very much in these moments you're pronouncing disciplinary measures.
But your children will love you and thank you for it for the rest of their lives because you're supporting them in remaining well-adjusted.
It's critical that you're consistent with disciplinary measures because you need to make sure they don't manipulate the boundaries easily.
You need to go all the way (follow through) for the best results in shaping their behavior.
But don't forget to introduce them to the consequence when the rule is broken, praise them for their effort, give respectful feedback, offer constructive criticism, and encourage and show understanding.
Parents should follow each other and don't undermine the authority one another.
Have different approaches to a matter, but follow the same ground principle so that the child doesn't get caught in between the parents or expected to take over a parent's roles and obligations.
Also, you can make mistakes with disciplining children – don't fear this too much – but the problem is if this turns into a pattern through repetition.
Related: 9 Biggest Mistakes Parents Make
PARENTAL GUIDANCE RESOURCES
Now, let's talk about some child guidance resources for parents that can help you, as well. Considering setting rules is a part of the guidance, one of 6 dimensions of parenting capacity, I'll mention 4 child guidance-related resources. I created 3 of them and the 1 that I didn't, I recommend as if it were mine.
And if you need a thorough introduction to guidance, I have a post that explains it in full detail. Here is the link to Guidance From Parents – What Is It In Child Development?.
And now let's see the 3 helpful resources.
Child Guidance: 12 Questions For Parent Self-evaluation is a resource I created to help parents shed some light on how they're guiding their children.
It explores 12 different dimensions of child guidance that are crucial if you want to make your guidance effective and contribute to your kids' most desirable behavior. By this, I don't mean nice or (too) obedient. I mean prosocial, more independent, strong-willed, and brave enough to question authority and ask questions.
When you open these 12 areas and ask the rights questions, you get a chance to understand what dimension can potentially be causing issues concerning the effectiveness of your parental guidance.
The root problem can usually be found within these 12 areas, but once you start addressing it one by one, usually when you make positive changes in one area, you'll see that others get the positive transformation, as well. I highly recommend that you check it out.
Alternatively, if that post is too long for you to read, take it with you by getting the ebook with an additional workbook to put the insights about your guidance into action that will lead to self-improvement. Here it is: PARENTAL GUIDANCE: SELF-EVALUATION GUIDE FOR PARENTS (E-BOOK+WORKBOOK).
Let's move on to the next.
The second one is called Child behavior management, and it's created for parents to uncover how good they are at managing a child's behavior and focus on what they can do to improve their current situation.
I provided you with 12 detailed guidelines you should implement to start managing your child's behavior more efficiently.
And it all starts with you becoming more and more aware of how you show up for your kids, how respectful are your parental practices, and how you look at parenting in the first place.
A digital download 10 Dos and 10 Don't When Implementing Punishments As A Response To Child Behavior is a helpful resource if you're using punishment in your disciplinary system.
This digital product will help you:
clear out what is and what isn't recommended (or even acceptable) to do in the case of punishment,
give you guidelines on what is effective and recommended in form of short tips,
as well as help you take inventory of your punishment system and take action in case to make necessary changes.
Note: This product doesn't intend to recommend that you use punishment as a disciplinary measure. It's intended to help you avoid mistakes that can be harmful for children and your relationships with them.
You can use it both in digital format and as a printable. As soon as you receive your download, you can immediately start using the digital copy.
And the last one is a phenomenal, transformative program hosted on Mindvalley, the biggest personal development company, that you can take to learn what it takes to raise well-adjusted, confident, and authentic kids by focusing on connecting with them more than on correcting them.
Dr. Shefali invites parents to forget about traditional forms of discipline that are based on more or less harsh punishments, and all of this aligns with an approach to parenting I suggest you take.
So if you like my approach to this complex topic, I'm sure you'll find her's just as suitable and relatable. Check it out by following the link: Conscious Parenting Mastery Program by Dr. Shefali.
This will be extraordinary experience and you'll come out of it changed and truly transformed, not just educated.
Mindvalley is an amazing platform created to level up your life by embracing personal growth and anyone can find programs that will fit their individual needs depending on the area of life they find troubling, too challenging, or simply want to improve to serve them best.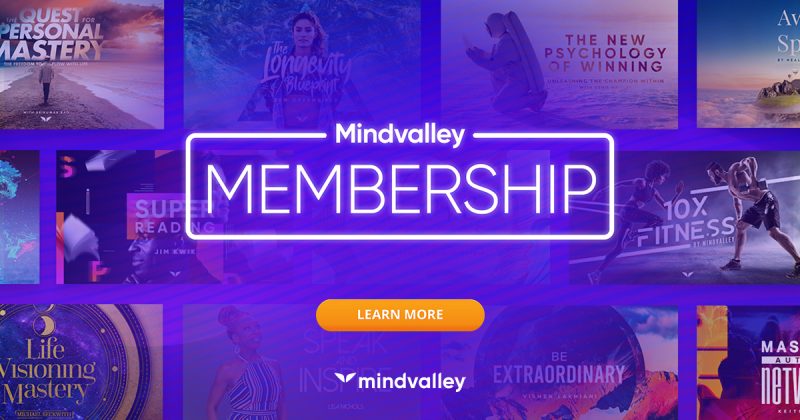 And if you decide to join the membership, you will get a chance to get the full Conscious Parenting Mastery program alongside over a 100 other programs (and counting because each month a new program – Quest is added to the platform) for a single monthly price.
This is a great 35-day program you can consume at your pace or in a class, created by Dr. Shefali, an experienced well-known psychologist who works with families and creates courses and programs to help parents resolve problems in their relationship with their children through connection with them.
Byt you'll also have access to the community of like-minded folks to connect with to whom we can relate. Right now you can enjoy the membership at a special price, so if you were thinking about expanding your self-growth so you can reach your full potential, there's no better time than now.
What you can expect once you begin engaging with this platform is:
true self-discovery so that you can start identifying your real preferences, aspirations, goals, and dreams
setting meaningful goals that have the potential to fulfill your need for self-actualization as opposed to only living on someone else's terms and building someone else's dream in order to be accepted by the environment and perceived as successful
liberation from fabricated societal expectation and norms that not only don't serve you, but are in fact representing oppression which is suffocating your soul that only wants you to live in alignment with whom you truly are and not what society expects you to be
to finally awaken your authenticity by letting yourself be visible as opposed to being shy or ashamed of who you are deep down or what you want behind the closed doors
to acquire skills to make life decisions aligned with your core values and true desires coming from the depth of your being
begin stepping into your potential and move towards reaching full potential unique for you and different from anyone else's in the world
become skilled at self-love that holds the key to building the life of your dreams
finally become comfortable in your own skin, doing your own thing, and going where you truly want to go in life
build the life you are proud to call your own and experience lasting fulfilment because your consciousness is so expanded that you don't need to worry about whether things will work out for you ever again, as now you have skills and support to make them work.
If you want to dive deeper into what this platform has to offer to you, read my post that mentions more than 30 programs you can expect to find on the platform if you decide to get inside the membership: 30+ Transformational Online Personal Development Programs For Creating The Life You Desire.
5. A More Personalized Approach
Alternatively (it you think this is not for you because you need a more personalized approach), see how you can work with me HERE.
I hope you find these resources helpful, feel free to let me know!
Latest Posts:
FINAL THOUGHTS ON SETTING RULES FOR YOUR CHILD
And we're done! I hope you found this helpful.
Setting the rules doesn't have to be dreadful and it doesn't have to be uniform, you don't need to do things others are doing. And you don't have to follow the same rules or similar routines!
Share in the comments what you do differently than most other parents you know! I'd like to hear about it!
See you in the next post. 👋 Here is one:
GOOD READS