In a world that often feels like a whirlwind of constant change and challenge, the pursuit of personal growth becomes not just an option but a necessity. I understand that, and I'm here to guide you through a comprehensive list of 100 ways to improve yourself.
100 Ways To Improve Yourself (From Ordinary To Extraordinary)
But wait, this isn't your average, run-of-the-mill list. We'll be diving deep, because I believe that improving yourself should be an engaging and profound experience.
So let's beginning exploring practical and insightful ways to make positive changes in your life!
This post has affiliate links which means that we make a commission from qualifying purchases at no additional cost to you. For more information read our Affiliate disclosure.
Note: Even though I am a licensed clinical social worker (LCSW), I am not your licensed clinical social worker (LCSW). This means engaging with our website is not considered a professional social worker and client relationship. This also means you should not consider this information as professional advice. Although we do put in every reasonable effort to provide the most accurate and reliable information, this does not replace professional advice, and you should not rely only on them. You still might need to consult a professional to introduce your particular situation, issue, problem, or position. Read our full Disclaimer here.
100 WAYS TO IMPROVE YOURSELF
Regularly practice meditation to connect with your inner self.
Invest time, effort, or money in personal development.
Form a habit of deep self-reflection and introspection.
Maintain a soul journal to record your thoughts, feelings, and insights.
Create personal rituals for personal and spiritual growth.
Spend time in natural settings to nurture your soul.
Dive into scientific, philosophical, and spiritual texts.
Use deep breathing techniques to stay present and centered.
Embrace moments of silence and solitude to be with yourself in peace, enjoy quiet time, and focus your attention on one subject you want to explore or resolve.
Cultivate gratitude for the beauty in life, for all your blessings, and for the desired future that is coming.
Explore art, music, or writing as a means of self-expression and creativity.
Give your time, attention, or money to a cause that resonates with your soul.
Reflect on the impermanence of life, embrace uncertainty, and accept the necessity of unfamiliarity for more progress.
Engage in deep conversations about life's fundamental questions.
Travel to experience different cultures and broaden your perspective.
Dive into the works of great philosophers.
Disconnect from the noise of the world regularly.
Join a group that shares your interests, values, and beliefs.
Let go of past grievances to free your soul, move on, and move forward.
Show kindness and empathy to others.
Explore and integrate your hidden or suppressed aspects.
Stay fully present in your daily activities, and if you fall out of balance, do not blame yourself; give yourself grace and get back on track.
Truly hear others without judgement or trying to fix things unless asked to.
Embrace all aspects of yourself, including flaws, mistakes, and failures.
Pursue activities that light up your soul.
Nurture connections that are profound, close, and genuine.
Attend retreats in natural settings for deep introspection.
Learn to let go of attachments to outcomes and focus on your efforts and contributions.
Remove clutter and distractions.
3 Biggest Mistakes With Self-acceptance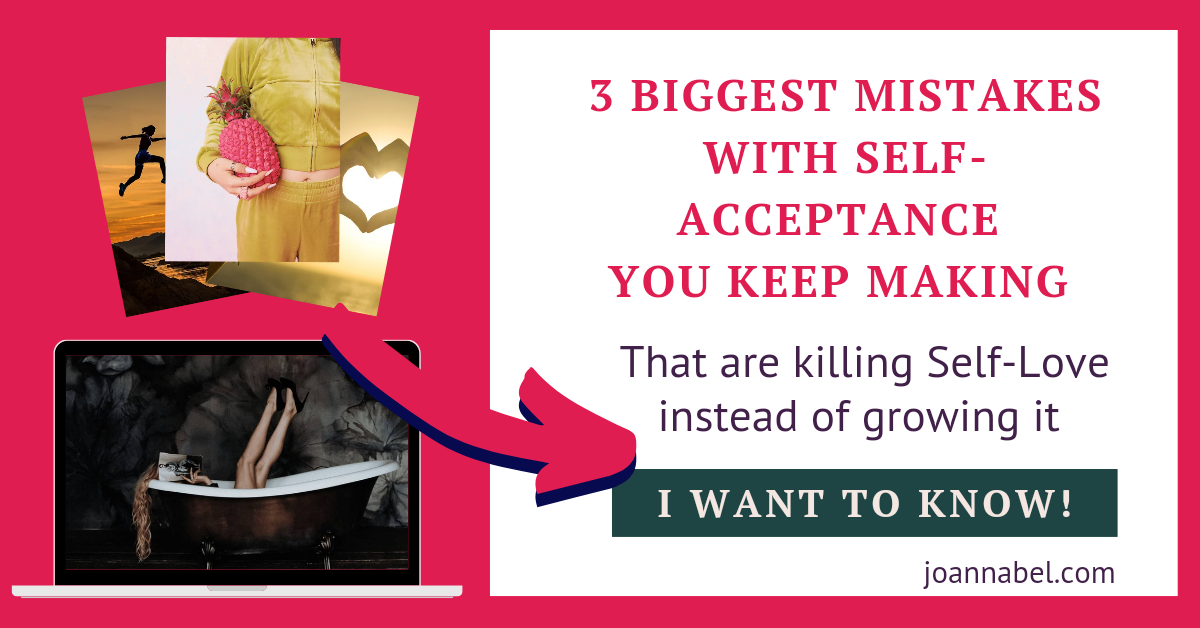 Learn about your heritage and family history.
Cultivate love and goodwill towards yourself and all beings in a meditation setting.
Dive into books that challenge your beliefs.
Explore spirituality without rigid beliefs or dogmas.
Create personal rituals to honor significant life events.
Accept the ever-changing nature of life.
Dance or engage in any kind of movement that feels soul-nurturing.
Work on accepting and healing your inner shadows and wounds.
Treat yourself with kindness and forgiveness.
Reflect on your life's purpose and path.
Use breath to release pent-up emotions and move to a more elevated emotional state.
Analyze and question the media you consume.
Limit distractions from screens.
Make mindful choices about what you buy and use.
Focus on becoming more authentic instead of unconsciously complying with social conventions and standards that don't serve your life purpose.
Integrate different aspects of your personality for wholeness.
See the unity in diversity.
Experience profound relaxation and self-discovery through guided meditation.
Investigate the intersection of science and spirituality.
Build a business with social impact.
Recommended Resources For You:
Practice nonviolent communication and assertiveness.
Document the experiments that enriched your life and existence.
Use imagination to manifest your desires.
Seek guidance from someone who inspires you personally, professionally, or spiritually.
Let go of dependence on material possessions.
Reflect on the consequences of your actions.
Lead with integrity and authenticity.
Embrace imperfection and impermanence in life.
Nurture authenticity, independence, sovereignty, and the spiritual growth of your children.
Uncover hidden dynamics within your family system.
Attend retreats focused on inner exploration.
Engage in respectful and constructive dialogue.
Align your financial goals with your values.
Engage in causes that resonate with your soul.
Give to charities and support organizations that reflect your values.
Develop strategies to manage your thinking processes (metacognition).
Explore practices like energy healing.
Offer wisdom and guidance to yourself and others through questioning.
Work on healing generational wounds, for instance, money wounds.
Explore altered states of consciousness.
View health as an integrated physical, mental, and social state.
Develop awareness of your thinking processes.
Embrace alternative and holistic healing practices.
Approach the ageing process with intention and wisdom.
Make vision boards to manifest your desires.
Experience body-based therapies for healing.
Combine physical activity with soulful experiences in nature.
Dive into the teachings of ancient cultures.
Master the art of constructive and empathetic conversation.
Rewrite your life story in a positive and empowering way.
Check out also:
Nurture a childlike sense of awe and curiosity.
Get involved in your community and social issues.
Apply creativity to tackle complex issues.
Strive for deep understanding and insight.
Get involved in civic and political processes.
Practice mindfulness in all your activities.
Dive into the philosophical concepts of self and identity.
Use literature as a therapeutic tool for self-discovery.
Develop the ability to differentiate and label emotions.
Consider the idea that all things have a form of consciousness.
Develop knowledge in various fields to adapt and excel.
Align your career with your values.
Navigate complex situations with nuanced thinking.
Embrace moral principles beyond societal norms.
Resolve internal conflicts for personal growth.
Harness the brain's ability to rewire for self-improvement.
Foster a sense of belonging and connection in your community.
Speak your mind with an open heart.
Collaborate with individuals from diverse disciplines to foster innovation.
Analyze narratives and stories that challenge linear thinking and traditional structures.
Latest Posts:
FINAL THOUGHTS ON 100 WAYS TO IMPROVE YOURSELF
As we conclude this post on 100 ways to improve yourself, I encourage you to embrace the methods that resonate with you most, and adapt and modify them to suit your unique needs and goals.
Just be patient with yourself, for progress may not always be linear, but every step you take is a step towards a more improved and empowered you.
Your life, your well-being, and your growth are profoundly meaningful and unique to you.
And with dedication, an open heart, and a willingness to learn from every experience, you can bravely pave that path with confidence.
Thanks for your attention and I'll see you in my next post! 👋 Here is one:
3 Biggest Mistakes With Self-acceptance