Looking for a comprehensive list of things to do for self-love? Then you'll find this list useful.
Love Yourself: List Of 41 Things To Do For Self-Love
When we love and care for ourselves, we are better able to navigate the ups and downs of life with grace and ease.
But for many of us, self-love can be challenging.
We may struggle with negative self-talk, limiting beliefs, and feelings of unworthiness.
The good news is, there are many things we can do to cultivate self-love and strengthen our relationship with ourselves.
Therefore in this post, you'll find a list of 44 powerful things to do to for much-needeed self-love.
We can begin right away!
This post has affiliate links which means that we make a commission from qualifying purchases at no additional cost to you. For more information read our Affiliate disclosure.
Note: Even though I am a licensed clinical social worker (LCSW), I am not your licensed clinical social worker (LCSW). This means engaging with our website is not considered a professional social worker and client relationship. This also means you should not consider this information as professional advice. Although we do put in every reasonable effort to provide the most accurate and reliable information, this does not replace professional advice, and you should not rely only on them. You still might need to consult a professional to introduce your particular situation, issue, problem, or position. Read our full Disclaimer here.
LIST OF THINGS TO DO FOR SELF-LOVE
Take care of your body by eating healthily, engaging in moderate physical activity, getting enough sleep and listening to your body more.
You may be led to believe that if you love yourself that means that you don't need to try to be the best, push yourself, try hard etc. because you accept yourself for who you are.
But that's not true – the opposite is true.
If you love yourself you'll do what it takes to self-improve, grow, try your best and become more disciplined.
You may be interested to read: 52 INSPIRING SELF-LOVE AND SELF-CARE QUOTES TO TRANSFORM YOUR MINDSET.
#2 PRACTICE MINDFULNESS
Take some time each day to self-reflect, meditate, reflect, or practice deep breathing.
This can help you feel more present and centered.
It doesn't need to be perfect or effective, you just need to start and be persistent not to give up.
Over time you'll adopt this practice and it'll become natural and comfortable like many of your daily routines.
#3 SET BOUNDARIES
Learn to say no to things that don't serve you, are bad for you and make you regres, and prioritize your own needs.
That doesn't mean think of your needs only and become self-absorbed.
Quote the contrary. That's not self-love.
It just means to focus on recognizing your needs and understanding them better so that you can find ways to meet them in a healthy way.
You may find it useful:
3 Biggest Mistakes With Self-acceptance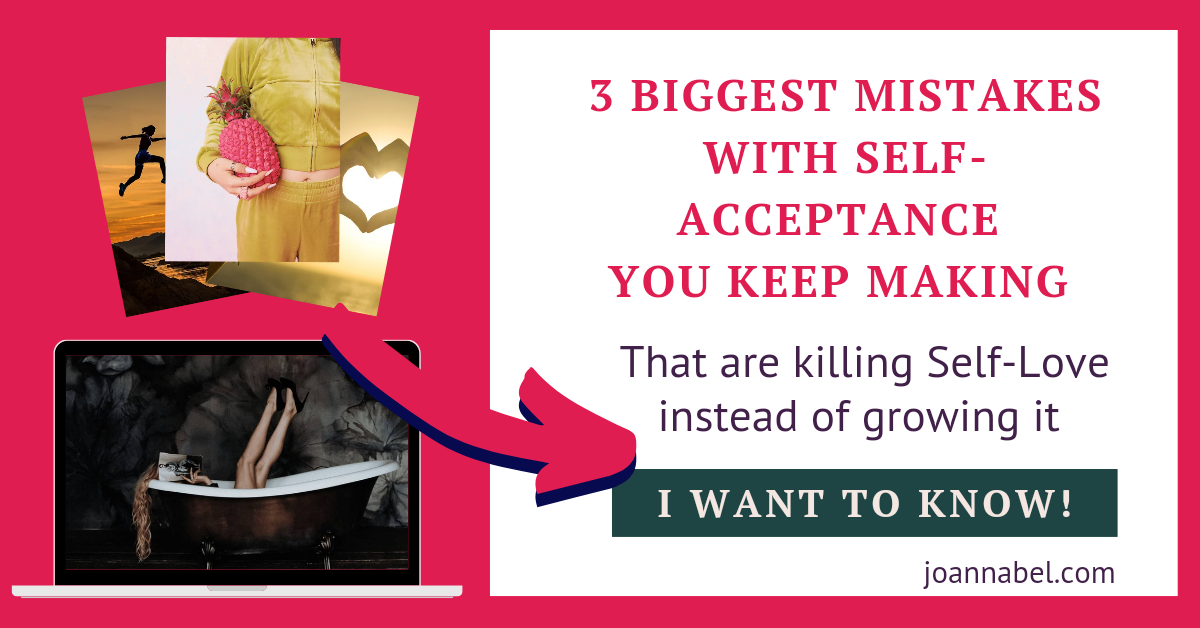 #4 PRACTICE A MORE POSITIVE SELF-TALK
Replace negative thoughts with affirmations for self-love and positive self-talk.
Positive self-talk is very important on the journey of self-love as it's always hard to adopt new habits and leave old patterns.
If you decide to use affirmations just make sure not to force yourself if you can't believe into some of them at the moment.
Nothing is wrong with you if that's the case.
But you don't have to give up on them either!
Just find a way to make them work for you – for instance you can modify them slightly so that they are suitable for your current mindset, beliefs, train of thought, or emotional state.
I have a few blog post featuring affirmations you may be curious to check out:
Enrolling in a personal growth program or a program for cultivating self-love can be a powerful way to support self-love, because these can provide structure, guidance, and accountability to help you expand self-awareness, build self-esteem, and learn tools and strategies for better self-care.
By investing in yourself and committing to personal growth, you positively affect your self-love and self-acceptance because you show up for yourself, put effort into your development, and prioritize your well-being.
Here's one recommendation for you: a program called Live By Your Own Rules by Kristina Mänd-Lakhiani, a serial entrepreneur, speaker, a thought leader, hosted on Mindvalley platform, of which she's a co-founder.
This program is a self-exploration that leads to self-discovery, self-liberation, and embracing authenticity, that takes only 15 minutes of your day over 31 days, where Kristina will guide you through her unique process to shed the light on masks of society, identify your personal truths, and nurture your relationship with themselves.
You'll understand how you've been restrained by societal standards and expectations about who you need to be to be accepted and valued, and you'll learn ways to innovate on how you approach life, and even fulfill your purpose, define happiness, pleasure, and success according to your own rules and criteria not someone else's you don't even know or care about.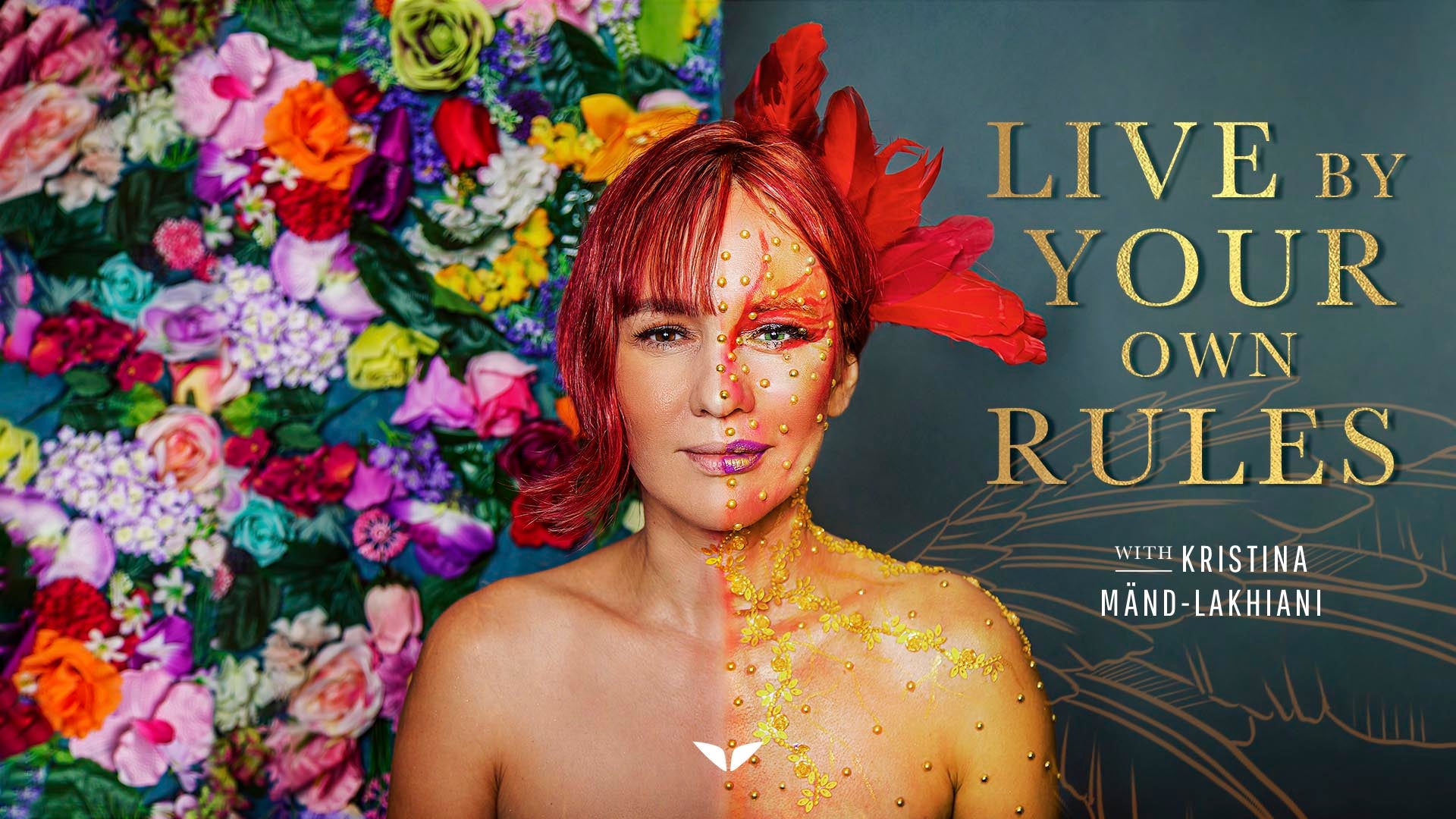 And as your journey brings deeper connection with yourself, you'll begin to accept all parts of yourself, as you live, and express yourself truthfully.
By the end of the program, your relationship with yourself can become so strong that standards of society will never threaten your authenticity again.
If you want to know more about what you can expect once you start this program, go read my post:
You may want to check out:
If on top of self-love challenges you experience mental health problems, I suggest you focus on mental health first and then supplement it with this program. I believe this can bring the best result for you.
On that note…
#6 CONSIDER PSYCHOTHERAPY
Psychotherapy can provide a supportive and transformative environment for growing self-love, so you're struggling with it or experiencing some mental health challenges, a support of a qualified therapist can be a good first step towards healing and growth.
Psychotherapy provides a safe, non-judgemental, and confidential space where you can open and share your thoughts, feelings, and behaviors without fear of judgment or criticism, as well as your deepest concerns and insecurities.
Low self-esteem and lack of self-love often have underlying causes that can be uncovered in therapy, so by looking back at your past experiences and exploring current challenges, you can understand why you struggle with self-love and learn new ways for cultivating it.
Finally psychotherapy can help you develop healthy coping strategies for dealing with stress, anxiety, and other difficult emotions, which can help you feel more empowered and confident, ultimately boosting your self-love and resilience.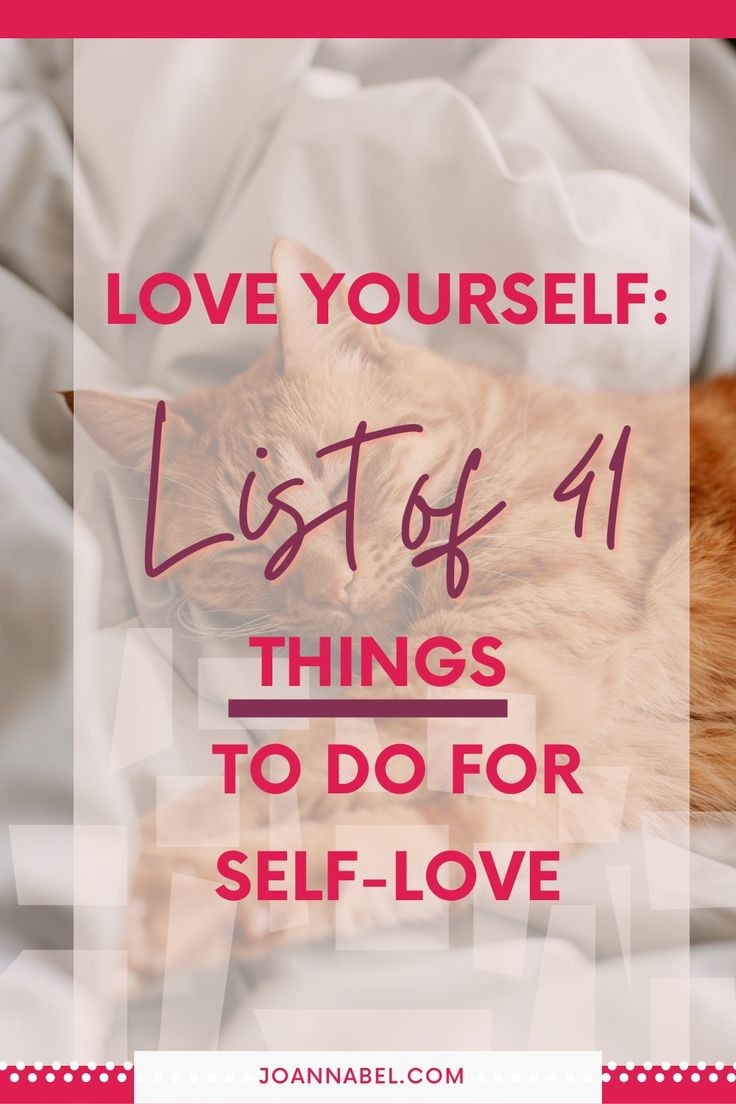 #7 TREAT YOURSELF
Indulge in small pleasures that make you happy, such as getting a massage or treating yourself to your favorite dessert.
This doesn't mean only treat yourself and do only what's pleasent and comfortable.
If you go this route you'll either lose people or risk your progress and growth or both.
It's about not forgetting to do this, alongside with celebrating your successes, and not engaging in guilt because you do things for yourself.
RELATED:
Commit to ongoing personal growth and learning, and embrace challenges and opportunities for growth with self-compassion and self-love.
This type of commitment can help with self-love by allowing individuals to continuously learn, improve, and evolve as a person.
When people invest in their personal growth, they prioritize their own well-being, which can lead to increased self-love and self-acceptance.
By challenging themselves to keep growing and learning, individuals can develop a sense of self-worth and confidence, and feel more empowered to create the life they want.
Learn about where you can start with personal development or read about the best personal development resources you can use.
Or take my recommendation and explore Mindvalley, a comprehensive online platform dedicated to personal growth and holistic development. It offers a wide range of courses and programs taught by leading experts in various areas such as mindfulness, spirituality, health, relationships, business, career development, and personal transformation.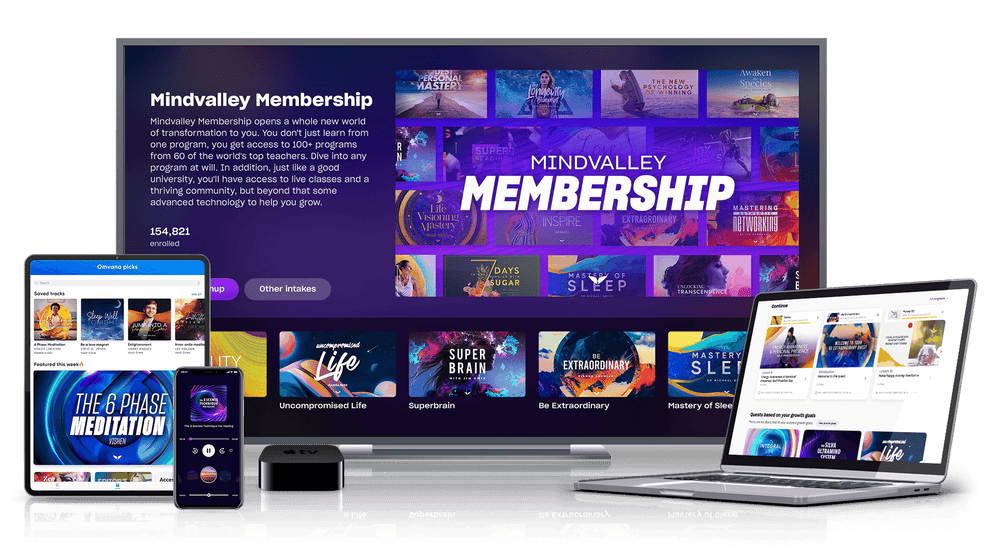 What you can expect once you begin engaging with this platform is:
true self-discovery so that you can start identifying your real preferences, aspirations, goals, and dreams
setting meaningful goals that have the potential to fulfill your need for self-actualization as opposed to only living on someone else's terms and building someone else's dream in order to be accepted by the environment and perceived as successful
liberation from fabricated societal expectation and norms that not only don't serve you, but are in fact representing oppression which is suffocating your soul that only wants you to live in alignment with whom you truly are and not what society expects you to be
to finally awaken your authenticity by letting yourself be visible as opposed to being shy or ashamed of who you are deep down or what you want behind the closed doors
to acquire skills to make life decisions aligned with your core values and true desires coming from the depth of your being
begin stepping into your potential and move towards reaching full potential unique for you and different from anyone else's in the world
become skilled at self-love that holds the key to building the life of your dreams
finally become comfortable in your own skin, doing your own thing, and going where you truly want to go in life
build the life you are proud to call your own and experience lasting fulfilment because your consciousness is so expanded that you don't need to worry about whether things will work out for you ever again, as now you have skills and support to make them work.
Inside this powerful and unique membership, you'll be able to choose from 100+ programs designed for elevating different areas of life, such as relationships, wellness, resilience, career, business, mindfulness, etc. You can go self paced or join a class, if you need more accountability.
That's a full personal development journey and transformation.
#9 PRACTICE FORGIVENESS
Forgive yourself for past mistakes and let go of grudges against others. This is not easy but it's something you do for your peace of mind, calm, and emotional stability.
When you practice forgiveness you give yourself a chance to move on, grow, and expand as opposed to supressing yourself and staying trapped.
You can find a guided meditation that can help you with that which you can use daily or a few times of week. Over time you'll succeed.
#10 PRIORITIZE YOUR PASSIONS INTERESTS, AND HOBBIES
Spend time doing things you enjoy, whether it's reading, painting, writing, speaking, hiking, etc.
That's a good way to learn more about yourself, focus on your wellbeing and ambitions.
As opposed to only doing what's expected which is problematic for cultivation of sellf-love.
#11 LEARN SOMETHING NEW
Challenge yourself to learn something new, whether it's a new language, skill, or hobby.
This moves you out of zone of familiarity and comfort and expands your consciousness.
Additionally it's possible to mees new like-minded folks if you choose a group activity or of you take a class.
#12 PRACTICE GRATITUDE
Take time to appreciate the things you have in your life, think about them, and focus on the positive.
Naturally, this isn't about ignoring your problems.
It's about becoming more realistic, empowered to tackle on challenges, and moving away from catastrophuzing if this is how you tend to respond.
#13 TAKE BREAKS REGULARLY
Allow yourself to take a break from your routine.
And do something that helps you relax and unwind, such as taking a bath or going for a walk in nature.
But also include regular daily and weekly breaks to preserve mental health and your normal brain function.
If you exhaust yourself you won't feel good nor you'll be good for yourself and this will create damage for your overall well-being.
3 Biggest Mistakes With Self-acceptance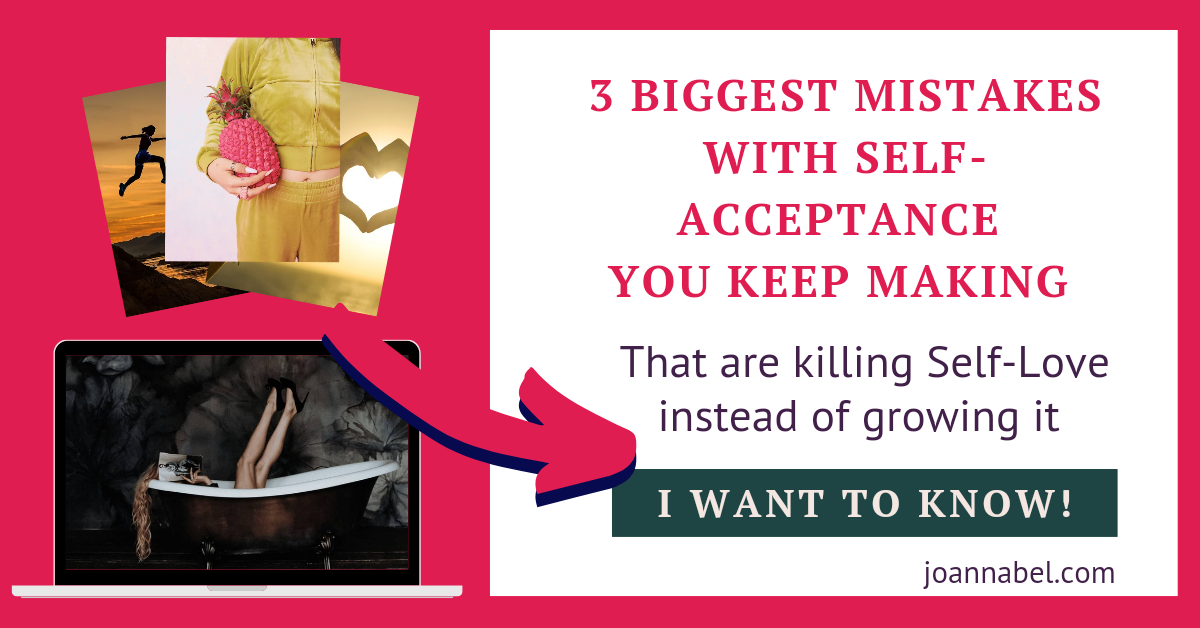 Writing down your thoughts and feelings can be a powerful tool for self-love, self-reflection, and self-awareness.
Firstly, it allows you to express and process your emotions in a safe and non-judgmental space, helping you to understand yourself better and gain insights into your feelings and thoughts.
Secondly, journaling can help you identify and document negative thought patterns and replace them with more positive and self-affirming ones.
Lastly, by regularly reflecting on your experiences, accomplishments, and personal growth, journaling can help you cultivate self-compassion and appreciate yourself more fully.
You can choose from prompted journals for personal growth I've listed in my post The Best 9 Personal Growth Journals That Will Inspire You To Move Forward This Year.
Or find the journal that's perfect for you in the list of journals beneficial for self-love that can help you with breaking free from all unnecessary restrictions.
Speaking of self-compassion…
Treat yourself with kindness and compassion, especially when you're going through a difficult time, because self-compassion is essential for self-love as it involves treating yourself with kindness, understanding, and acceptance, rather than harsh self-criticism or judgment.
When you practice self-compassion, you acknowledge that it's okay to make mistakes or experience difficult emotions, and you respond to yourself with care and support.
This kind of self-talk can help you build resilience, boost self-esteem, and promote a sense of well-being and contentment.
It also allows you to practice forgiveness towards yourself, which is essential for moving forward and cultivating a healthy relationship with yourself.
In this blog post I wrote you can find 10 workbooks that will help you grow self-love through self-compassion.
Accept yourself for who you are, with all your flaws and imperfections because to cultivate self-love you need to embrace and acknowledge your whole self, including your strengths, weaknesses, and imperfections, without judgment or self-criticism.
With self-acceptance, you recognize that you are a unique individual, worthy of love and respect, regardless of your past mistakes or perceived shortcomings.
This kind of self-treatment allows you to form a healthy and supportive relationship with yourself, rather than striving for unattainable standards of perfection or constantly comparing yourself to others.
By accepting and loving yourself for who you truly are, you can build a stronger sense of self-worth, resilience, and confidence, which can enhance your well-being consequently.
Read through quotes and sayings focused on self-acceptance and pick some you will use regularly:
#17 BE PRESENT
Focusing on the present moment can be beneficial for self-love because it allows you to develop a deeper awareness of yourself and your surroundings, without being buried into worries about the past or future.
When you focus on the present, you can tune into your thoughts, emotions, and physical sensations, and practice self-compassion and self-care in real-time.
If you pay attention to the present moment, you can also feel gratitude and appreciation for the present moment, which can help you feel more content and fulfilled in your life.
#18 SET BOLD GOALS
Setting bold goals can be a powerful tool for cultivating self-love:
Firstly, it can help you build self-confidence by challenging yourself to step outside your comfort zone and pursue something that may seem daunting or unattainable at first.
Secondly, setting and achieving bold goals can help you discover new strengths and talents, and build a greater sense of self-awareness and personal growth.
Thirdly, by pushing yourself to try new things, you can learn more about yourself and what you are capable of, which can help you develop a deeper sense of self-love and appreciation.
Lastly, setting bold goals can help you develop a more positive and optimistic outlook on life.
By focusing on what you want to achieve and taking active steps towards that goal, you can cultivate a sense of purpose and direction in your life, which is very fulfilling and empowering.
Here's a FREE masterclass you may find helpful is this is something you need to focus on right now:
3 Biggest Mistakes With Self-acceptance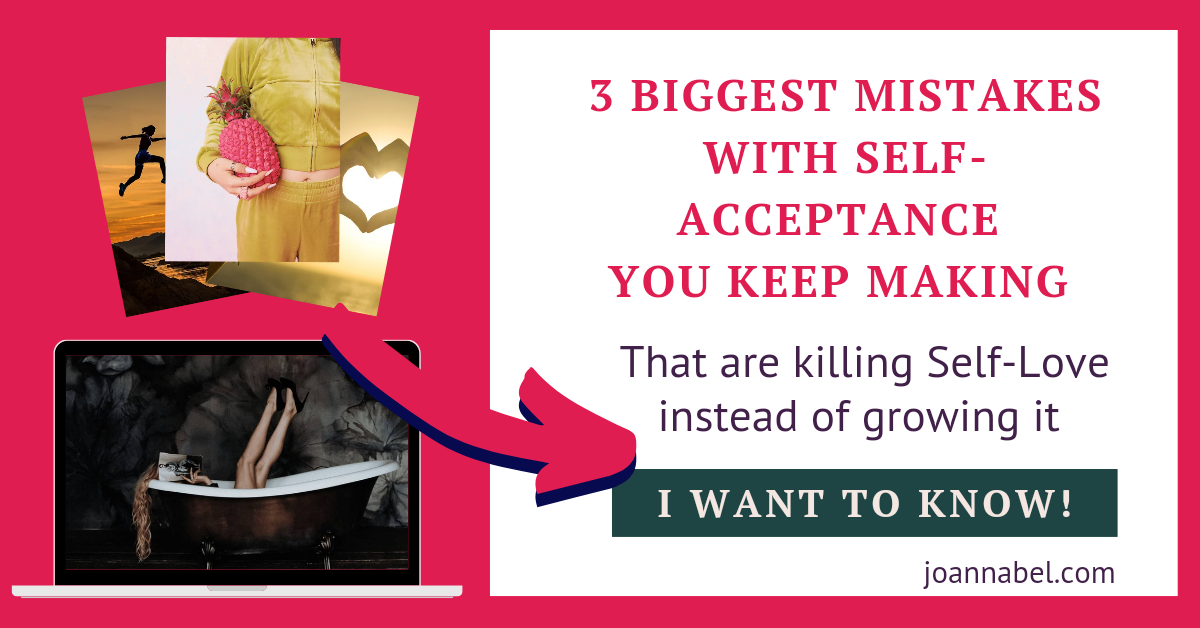 #19 DO SOMETHING THAT SCARES YOU
When you face your fears and take action despite them, you send a powerful message to yourself that you are capable and strong, which can boost your self-confidence and self-esteem.
Additionally, facing your fears can help you develop a greater self-awareness, as you learn more about yourself and what you are capable of.
When pushing yourself out of zone of familiarity, you can also focus on growing self-compassion, by learning to be kinder and more understanding towards yourself, in the face of challenges.
#20 PRACTICE SELF-EDUCATION
Learn more about yourself and the world around you by reading books, watching documentaries, or taking courses.
By engaging in self-education, you can deepen your understanding of yourself, your values, and your interests, which can enhance your self-awareness and self-appreciation.
And if you take the time to learn about the things that matter to you, you became more aware of who you are and what you want, which can positively impact your self-worth.
Plus, engaging in self-education can help you develop new skills and knowledge, which can empower you and boost your confidence and feeling of competence.
By investing in your own personal and professional development, you can demonstrate to yourself that you are worthy of growth and self-improvement, which can help you feel more positive and satisfied.
YOU MAY ALSO LIKE:
#21 SEEK SUPPORT
Don't be afraid to reach out to friends, family, or a therapist for support when you need it.
Seeking support from others can help you feel more connected and supported and when you feel supported by others, you are more likely to feel valued, appreciated, and loved, which can enhance self-worth and self-esteem.
By sharing your struggles and challenges with supportive others, you can gain new perspectives and insights, which can help you reframe your thoughts and beliefs in a more positive and self-affirming way.
Lastly, seeking support can help you develop new skills and strategies for managing stress, anxiety, and other challenges that may be impacting your well-being.
Working with a therapist, coach, or other professional, can also provide you with new tools and techniques for relying on your resilience and coping skills, which can improve your quality of life.
#22 FOCUS ON SELF-EXPRESSION
By expressing yourself, you're putting yourself out there and taking a risk, which is not easy to do, considering that way you may get rejected which can be painful.
But going that route you're empowering yourself and boosting your confidence, both leading to greater self-love.
And that's because you are allowing yourself to be seen and heard.
In this way you grow self-acceptance and help yourself embrace all aspects of yourself, including your imperfections and shortcomings.
#23 DECLUTER YOUR SPACE
Your external environment often reflects your internal state.
So then decluttering your space can be a way to clear out any emotional baggage, negative thoughts, or limiting beliefs that may be holding you back from fully loving and accepting yourself
Clearing out clutter and creating a clean, organized space can help you feel more relaxed and at ease.
Also, taking the time to declutter your space is an act of self-care, demonstrating that you value your well-being and are willing to invest time and energy in yourself.
It can also help you create a more nurturing and supportive environment that promotes self-care and wellness.
3 Biggest Mistakes With Self-acceptance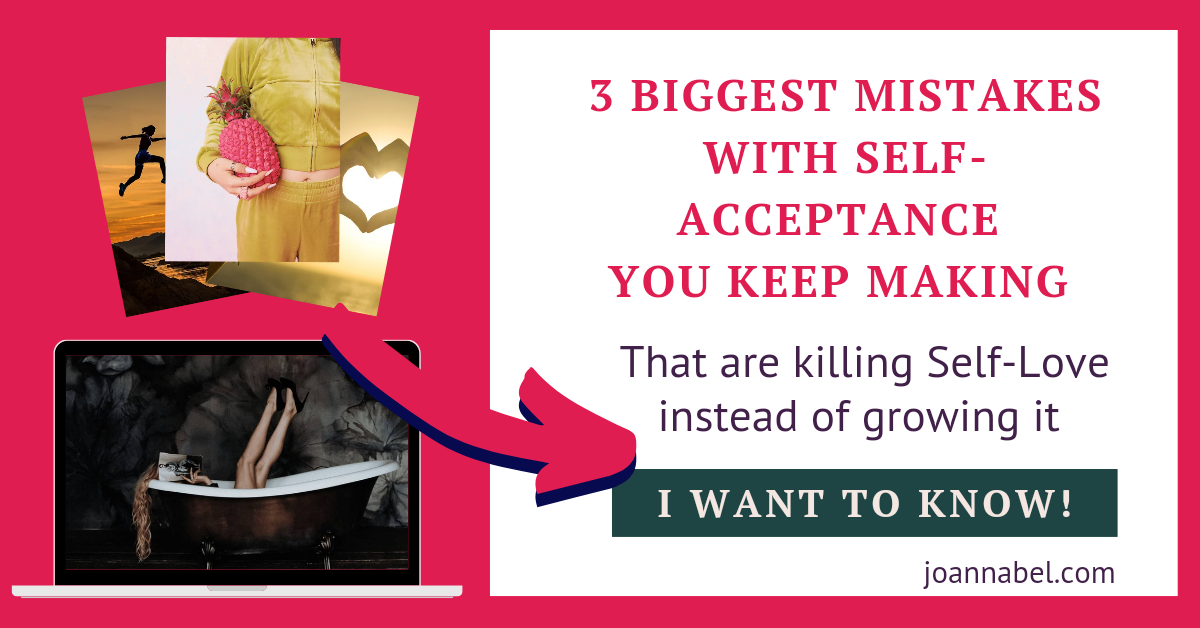 #24 TAKE A SOCIAL MEDIA BREAK OR DIGITAL DETOX
Social media can be a great way to connect with others, stay informed and entertained, and express oneself creatively. However, it can also become a source of stress, comparison, and negative self-talk, which can erode self-love and self-esteem over time.
Taking a break from it, or detoxing, can be a beneficial for self-love and self-care because it can provide a chance to focus on meaningful connections with loved ones, reduce distractions and mental clutter, and create space for introspection and self-reflection.
Detoxing from social media can also help one gain a healthier perspective on oneself, others, and the world, and develop a stronger sense of self-worth and autonomy.
Unplug from it for a day or a week or a month to give yourself a mental break from the pressures of the online world and spend time doing things that don't involve screens, such as reading a book or going for a walk or a short trip.
Recommended Resources For You:
#25 CONNECT WITH YOUR BODY
Connecting with your body can involve paying more attention to the physical sensations, emotions, and needs, and responding to them in a compassionate and nurturing way. That can also help you identify and address any physical or emotional problems that may be impacting your overall wellness.
If you do so, you can grow self-awareness and learn to trust your own instincts and intuition.
Practices such as yoga, meditation, mindful breathing, and body scan exercises can be helpful ways to cultivate body awareness.
At the same time, engaging in physical activities that bring you joy and pleasure, such as dancing, hiking, or swimming, can help you feel more connected and attuned to your body, and reinforce a positive sense of self.
Learning to say "I love you" to yourself can have a powerful impact on solidifying self-love.
Considering that saying these words to yourself can guide you to acknowledge and validate your own feelings and needs, and develop a nurturing relationship with yourself.
And it can also help you overcome self-critical thoughts and judgments, and reinforce self-compassion and self-acceptance.
You can begin to shift the way you relate to yourself and make you feel more worthy of good things.
Consequently, that can help you set healthier boundaries and make choices that align with your values and priorities, leading to a more satisfying life in the end.
Say "I love you" to yourself in the mirror each morning or write it in a journal to help increase self-love.
You may find useful:
#27 SURROUND YOURSELF WITH MORE POSITIVITY
Surrounding yourself with positivity can have a significant impact on self-love: when you surround yourself with positive and supportive people, messages, and experiences, it can reinforce positive beliefs about yourself and create a more nurturing and uplifting environment. Instead of going down a negative spiral over and over again.
This can help counteract negative self-talk and self-doubt, and encourage a more compassionate and accepting attitude towards yourself.
It can also provide opportunities for growth and learning, and help you develop new skills and strengths.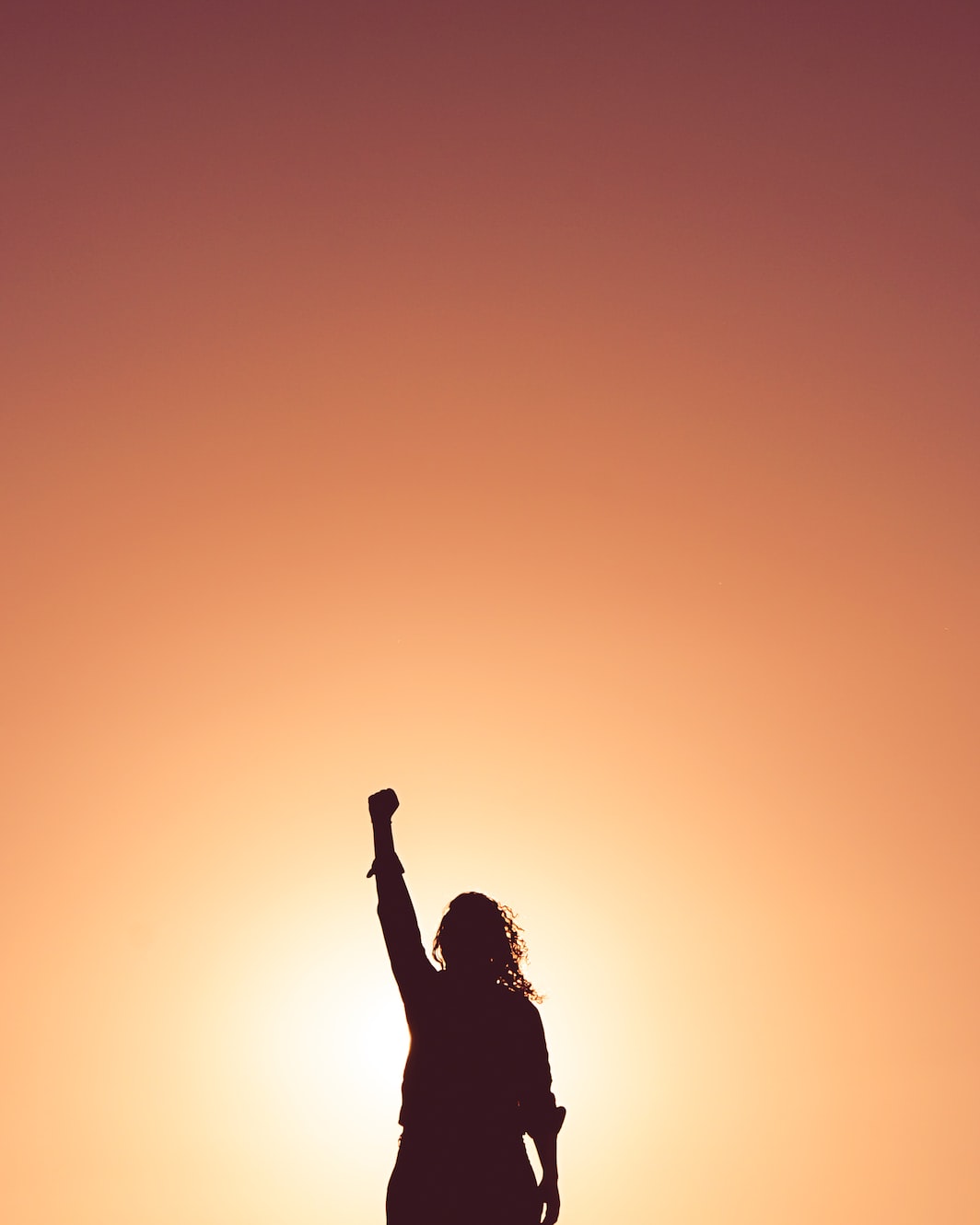 By intentionally seeking out positive and uplifting experiences and people, you can create a more supportive and empowering surrounding for yourself and build the sense of self-worth.
Fill your space with things that make you feel good, such as uplifting quotes, plants, or pictures of loved ones.
Talking about positivity, I'm not implying you should ignore "negativity", as they're both important. It's not about ignoring the negative stuff, avoiding difficult or unpleasant emotions and not dealing with life events.
You may be interested in checking out my blog post The Best Books For Positive Mindset (10) To Add To Your Reading List.
Practicing positive affirmations and uplifting sayings means that you use positive statements to shift your mindset and beliefs about yourself.
When you repeat positive affirmations to yourself regularly, you are reinforcing positive beliefs and creating a more positive self-image.
This can help counteract self-doubt, and promote a more loving relationship with yourself. By intentionally focusing on positive aspects of yourself and your life, you can start appreciating who you are.
This can help your self-worth and self-esteem, and ultimately, positively impact your self-love.
Say positive affirmations to yourself each day that you find you can believe to say, such as "I am worthy and deserving of love" or "I trust in my abilities and strengths."
You may be interested to read also:
3 Biggest Mistakes With Self-acceptance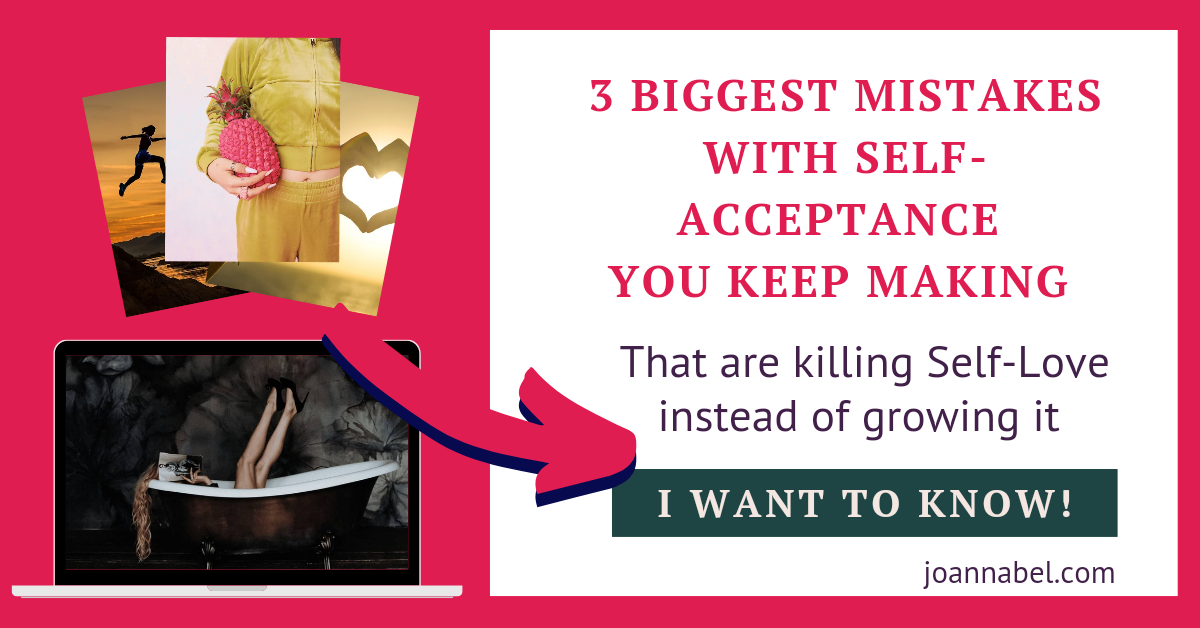 #29 CONNECT WITH YOUR SPIRITUALITY
Spirituality involves exploring and connecting with your inner self, your values, and your purpose in life.
And if you engage in spiritual practices, such as meditation, prayer, or connecting with nature, you can deepen your sense of self-awareness and find a meaning and purpose in life.
By aligning your actions and decisions with your spiritual values and beliefs, you can feel more authentic and in tune with your true self, which can further strengthen your self-love.
In addition, connecting with your spirituality can help you grow empathy for others, and experience of interconnectedness with all beings.
#30 EMBRACE YOUR EMOTIONS
When you allow yourself to feel your emotions, you become more aware of your own inner experiences and needs and then you better understand yourself and what you need.
Embracing your emotions also involves accepting all parts of yourself, even the parts that you may not like or that are uncomfortable to acknowledge. So that you can begin to accept yourself as a whole, which is a key component of self-love.
And when you allow yourself to feel your emotions, you are practicing self-compassion, instead of judging or criticizing yourself for your feelings, you are showing yourself kindness and giving grace.
Plus, if you acknowledge your emotions, you are better able to identify when you need self-care, in a form of taking a break from work, seeking out social support, or engaging in an activity you enjoy.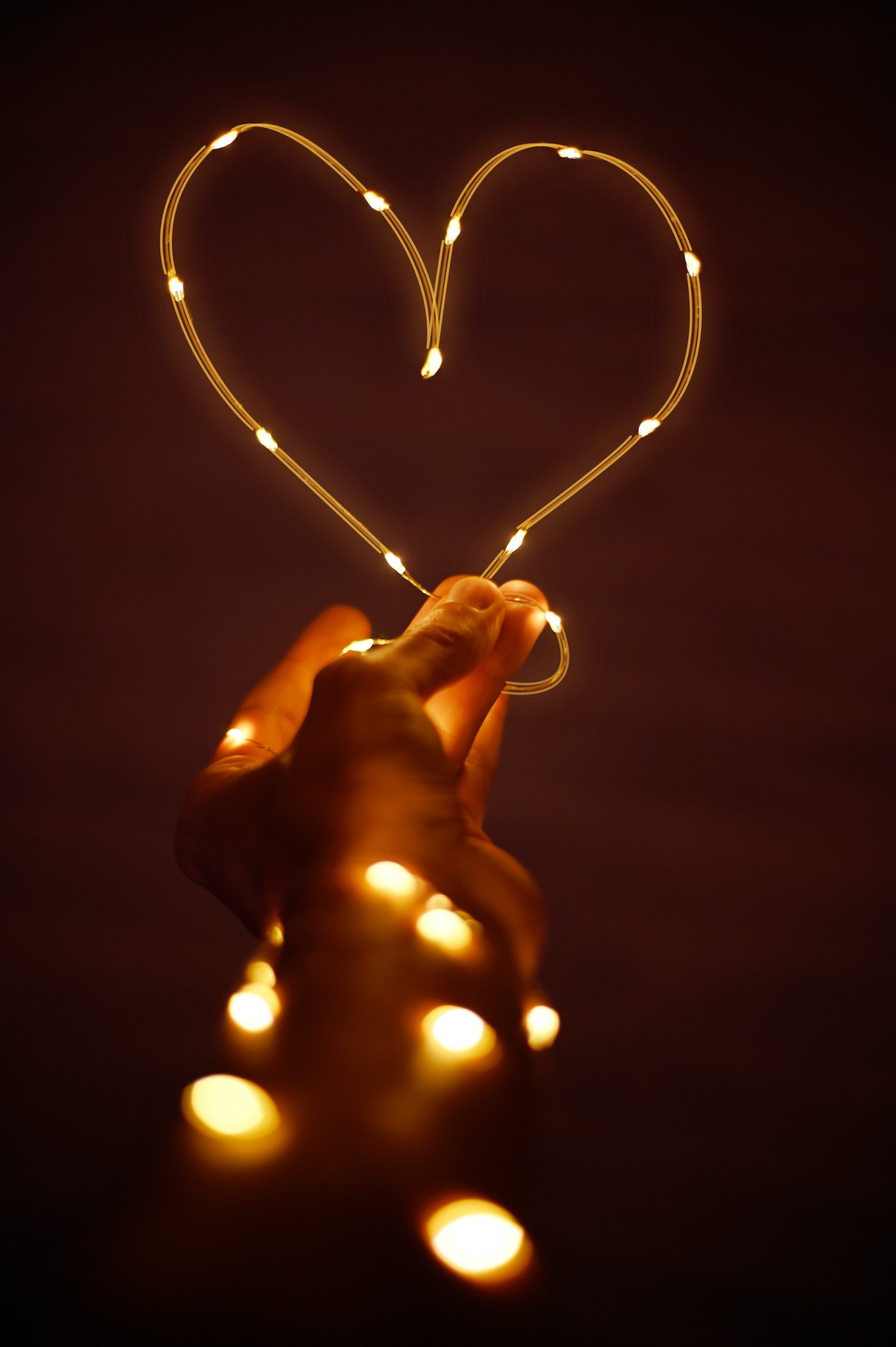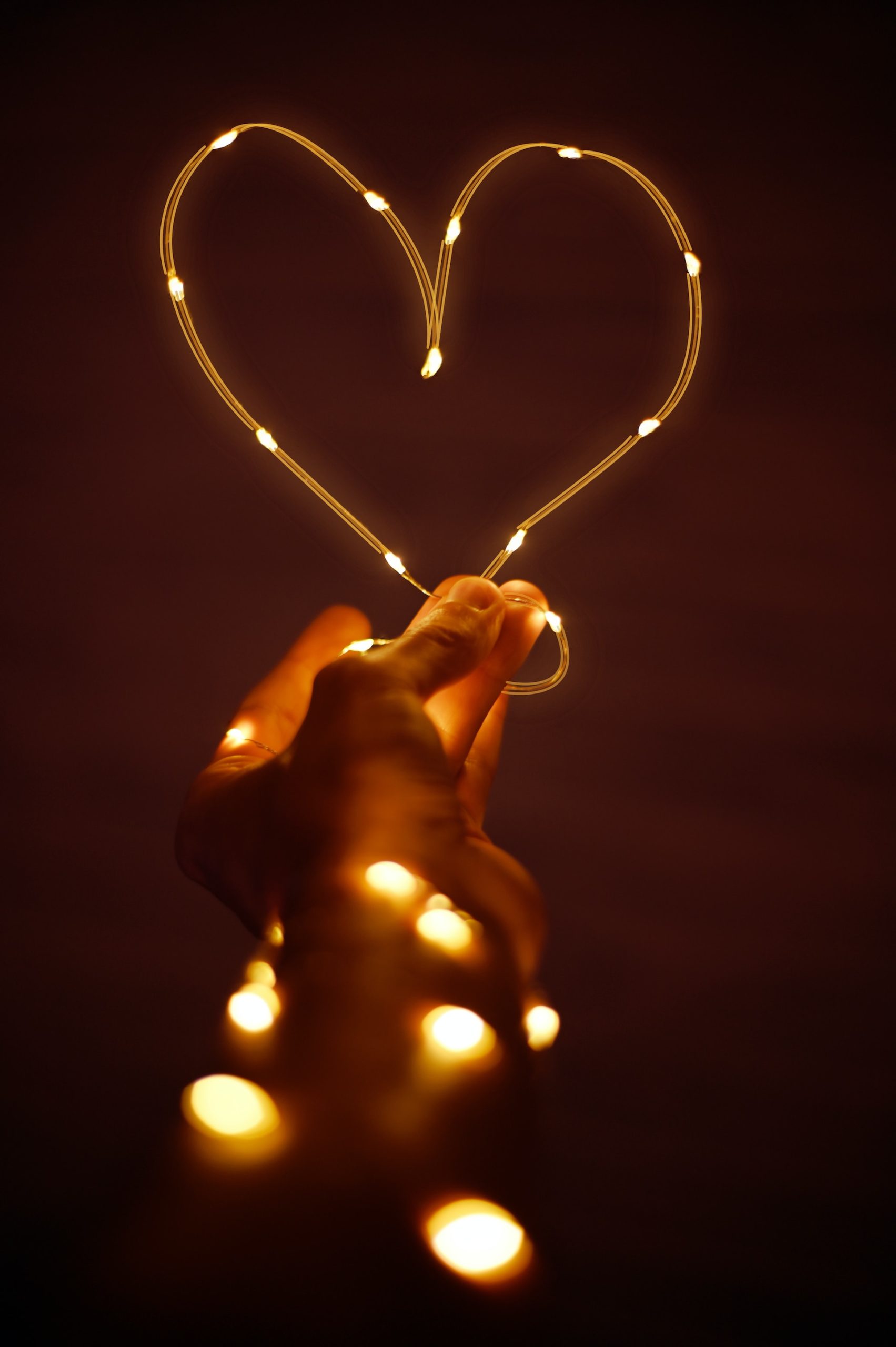 Giving yourself what you need in the moment is a powerful act of self-love, therefore allow yourself to feel a range of emotions, whether it's joy, sadness, anger, or frustration, and learn to channel them.
I have a few blog post you may find useful if you feel that you can benefit from learning more about emotions and mental health:
#31 FOCUS ON YOUR JOURNEY
Instead of endless and overbearing comparing yourself to others, focus on your own journey and celebrate your own lessons, progress, growth, and accomplishments.
Comparison can be detrimental to self-love, if it leads to feelings of inadequacy or low self-worth or it creates disconnect from important others.
Focus on your own journey, because that way you'll be more likely to be attuned to your own needs, desires, and goals as you'll better understand what you inherently and authentically need.
Focusing on your own journey is also about self-acceptance – recognizing that everyone has their own unique path and challenges, you accept and embrace your own quirks and uniqueness.
When you focus on your own path, you are more likely to approach challenges with a growth mindset, rather than seeing setbacks as failures, you can view them as opportunities for learning and growth.
This approach can grow self-confidence.
Here's something to help start your self-love journey: Self-love journey: 5 key questions to begin now.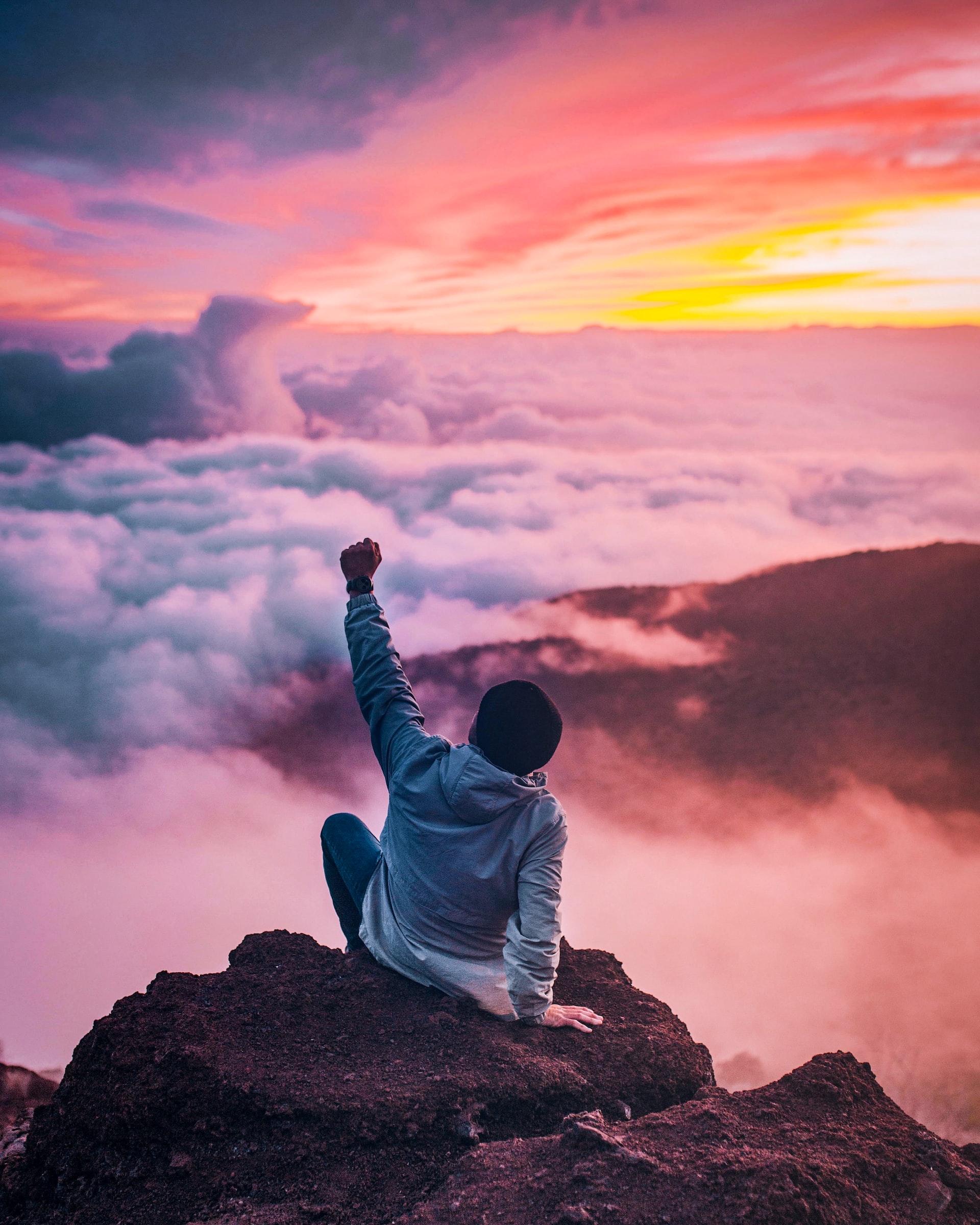 #32 CELEBRATE YOUR ACCOMPLISHMENTS
Celebrating your accomplishments is an important part of self-love because if you take the time to acknowledge your achievements, no matter how small, you are sending a message to yourself that you are capable and deserving of success.
This can boost your confidence and positively affect self-esteem, and motivate you to continue pursuing your goals.
On top of this, it can be a form of self-care, as it allows you to take a moment to reflect on your hard work and feel proud of yourself.
Take time to acknowledge your accomplishments, big or small, and celebrate your successes to propel your further growth.
#33 SPEND TIME WITH PEOPLE WHO MAKE YOU FEEL SUPPORTED
Surround yourself with positive, supportive people who lift you up.
But also remember to do that for them as well.
Plus this isn't about expecting people to only say or do what you please and expect, as this can then into exploitative communication and relationship.
But it's also about not being willing to put up with disrespect, maltreatment, or harm.
Give yourself permission to disconnect from people that aren't really supportive and don't respect your boundaries or don't respect you.
Just don't forget that true self-love also means that you're supportive of those exact people.
#34 SEEK OUT POSITIVE ROLE MODELS
Positive role models can inspire us to believe in our potential as we see them embody qualities we admire or achieve success in areas important to us.
Witnessing their achievements and journeys can fuel our self-love and drive us to pursue our own goals.
They can serve as guides by demonstrating healthy self-love practices and behaviors – observing how they prioritize self-care, set boundaries, practice self-compassion, and pursue their passions can teach us valuable lessons in self-love.
By observing those who defy societal norms and overcome obstacles to achieve their goals, we start:
questioning our own self-imposed limitations,
expanding our self-perception and
embracing a more positive and empowering mindset, positively impacting self-love.
Plus they can provide a felling of connection and belonging because we've found those who share our values, aspirations, or experiences, which validates our own journey and makes us feel less alone and unfit.
So go ahead and surround yourself with people who inspire you and who model the kind of self-love and self-care you want to practice in your own life.
3 Biggest Mistakes With Self-acceptance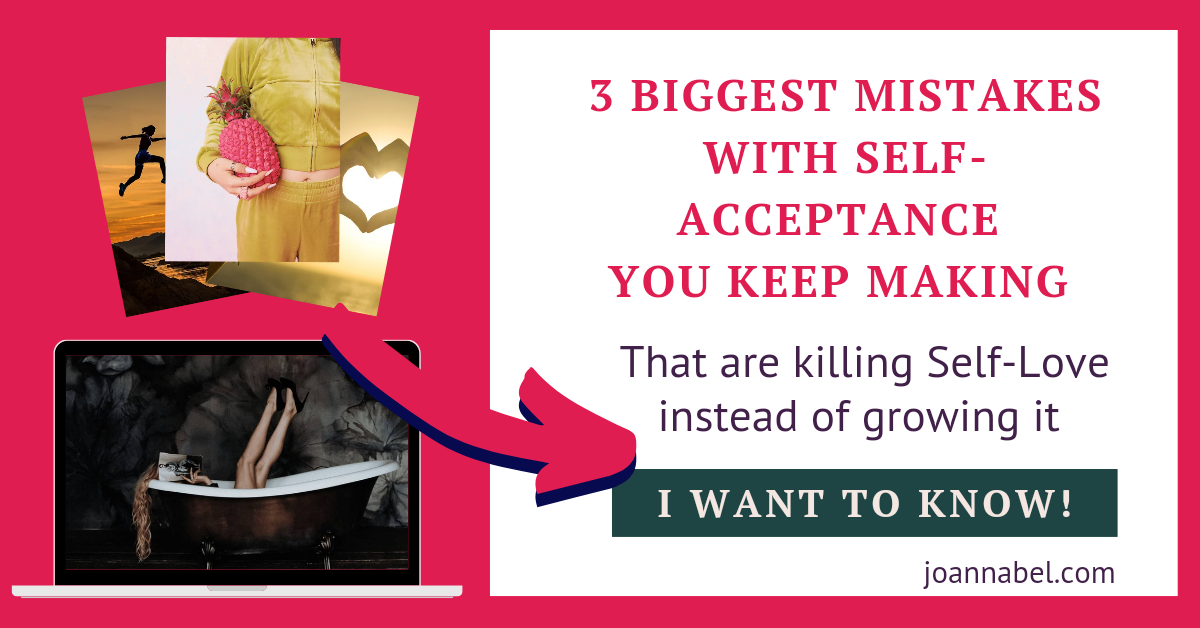 #35 PRACTICE SELF-LOVE THROUGH GIVING BACK
Practicing self-love through giving back refers to engaging in acts of kindness and service towards others as a pathway to more self-love and self-worth.
By helping others, we can experience a sense of fulfillment and purpose that can enhance our own well-being and self-esteem.
It is a way to shift the excessive focus away from our own problems and insecurities and towards the needs and well-being of others, which can ultimately lead to a more positive and compassionate view of ourselves.
That's not about avoiding our problems it's more about detaching and decentering that's highly necessary.
So give back to others and your community in ways that are in alignment with your values and passions.
Practicing self-trust allow you to rely on yout own instincts and beliefs, which can help with self-esteem and self-assurance.
When we trust ourselves, we can make decisions that are in our best interest, rather than relying hard on external validation or seeking approval from others.
This can help us to develop a stronger sense of self and self-worth, which are important aspects of self-love.
More self-trust can also support overcoming self-doubt and fear, which can hold you back from achieving goals and aspirations.
Trust yourself and your intuition, and make decisions that are in alignment with your values and goals.
Here are some trust-in-yourself quotes I've compiled for you. Go to this post.
#37 LEARN TO RECEIVE COMPLIMENTS
Many people struggle with accepting compliments, either dismissing them or deflecting in some way, which can signal they've internalized a lot of shame, and lack self-confidence and self-love.
So by learning to receive compliments graciously and with gratitude, you recognize your own value and worth, which can have a positive impact on self-perception.
Furthermore, learning it can also help break free from unuseful thought patterns and harsh self-talk, which can be a barrier to self-love.
By acknowledging and accepting positive feedback from others, you shift focus towards strengths and positive qualities, rather than dwelling on perceived flaws or weaknesses.
Practice accepting compliments from others graciously, and begin to appreciate and internalize them.
#38 CHALLENGE YOUR BELIEFS
Negative beliefs mixed with feelings of shame, self-doubt, and low self-esteem undermine our ability to love ourselves, so by identifying and challenging these beliefs, we get to see ourselves in a more positive and compassionate light.
If we have an ingrained belief of not being good enough, we may constantly compare ourselves to others and feel like we always fall short. This can reinforce feelings of inadequacy and self-criticism.
However, by challenging this belief and recognizing our unique strengths and qualities we can start to:
shift our perspective and cultivate more self-acceptance
let go of harsh self-judgments and unattainable expectations, that frees us to live more authentically.
Identify any negative beliefs that hold you back, and challenge them with positive affirmations and evidence to the contrary.
#39 EMBRACE YOUR UNIQUENESS
Embracing one's uniqueness is good for self-love because it allows individuals to recognize and appreciate their own individuality and worth.
With embracing our unique qualities, we can celebrate our differences rather than feeling ashamed or inadequate.
This is good for self-esteem, self-confidence, and self-worth.
When we embrace our unique qualities, we can learn to love ourselves for who we are, rather than trying to conform to others' expectations or societal standards.
Celebrate your unique qualities and embrace the things that make you different from others.
3 Biggest Mistakes With Self-acceptance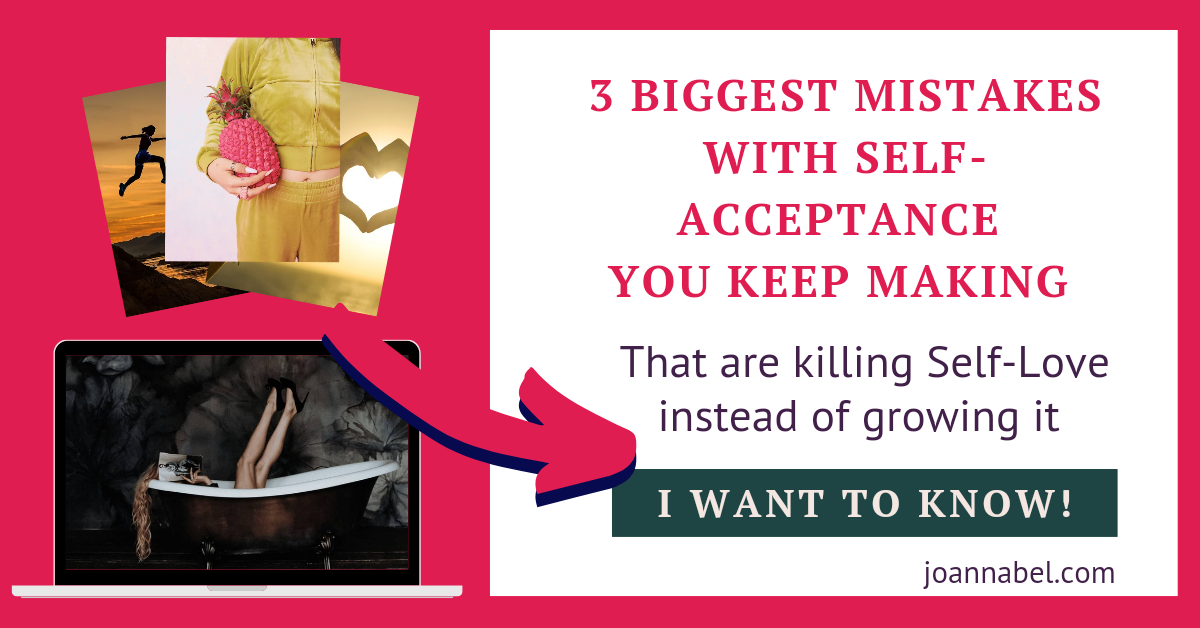 #40 ACCEPT THAT MISTAKES WILL HAPPEN IN LIFE
Perfectionism is a killer of self-love.
This is so because that way you set unrealistic and often unattainable expectations for yourself and often others as well.
The constant striving for perfection can lead to feelings of inadequacy, self-criticism, and self-doubt, which can erode self-esteem and self-worth.
Additionally, perfectionism can lead to a fear of failure, making it difficult to take risks or try new things, which can limit personal growth and development.
By striving for perfection, people become overly critical of themselves and it shows that they struggle with self-acceptance and self-love, because they're trying to prove that they're good enough.
Allow mistakes so that you can learn from them without beating yourself up, and offer yourself and others kindness and understanding during times of difficulty.
#41 EMBRACE VULNERABILITY
Allow yourself to be vulnerable and share your authentic self with others, rather than hiding behind a facade.
This is good for self-love because it involves accepting yourself as imperfect and having the courage to show up authentically in the world.
When you let yourself to be vulnerable, you open up to new experiences and deeper connections with others.
And with embracing vulnerability, you learn to love yourself for who you are and recognize that their imperfections are part of what makes them unique and valuable.
Here's a helpful book to start.
Latest Post
RELATED:
FINAL THOUGHTS ON LIST OF GOOD THINGS TO DO FOR SELF-LOVE
By incorporating some of these practices I mentioned in this list of things to do for self-love into your routine, you'll be taking important moves towards strengthening your relationship with yourself.
But remember, self-love is not a one-time event, but an ongoing practice, so be gentle with yourself and give yourself the time and space you need to grow and thrive.
Above all, always remember that you are worthy of love, feeling of happiness, and all the wonderful things life has to offer.
Keep loving yourself and embracing the journey, and you'll be amazed at the transformation that unfolds.
I'll see you in the next post! 👋 Here is one:
3 Biggest Mistakes With Self-acceptance